New Research in Interior Industrial Design

New Technologies in Arts

Arts and Culture

Architecture and Urban Planning

Civil Engineering

Art and Architecture Applications in other Sciences

Other Related Topics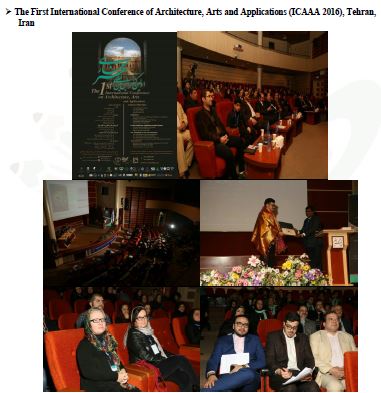 The 1st international conference on Architecture, Arts and Applications with its main approach to new technologies by the supervision of MPRH Institute, Research Institute of Culture, Art and Architecture of ACECR and Daneshpajoohan PishroHigher Education Institute, on Dec 15 and 16, 2016 at the Conference hall of the Research Institute of Culture, Arts and Architecture of Tehran was held.
There were more than 350 guests from the heads of Art, Architecture and Urban Architecture, Professors, Intellectuals, the specialist and the student inside and outside of the country were attending this event. The Conference was held with the speech of the managers and specialists in this field, and also was holding two English and Farsi Panels and presenting the oral articles and video article at the first day and 3 specialized workshops in both English and Persian at the second day.
The think tank of the Permanent Secretariat of the conference was initiation with the supervision of Mostafa Alibeigi and the hard effort of the selected intellectual young people. And success to this matter without scientific, intellectual and financial partnership was inevitable. The scientific partners of the conference were Majlis Research Center, National Science Foundation Science and Technology Vice President, Mother Company of Civil and Urban Upgrading Iran, Ministry of Roads and City Planning, Engineering system of the country and in Tehran.
And also the scientific partnership of universities were Iran University of Science and Technology, Rajai Teacher Training University, Alzahra University, Kharazmi University, University Islamic Republic of Iran Broadcasting (IRIB), Architecture Institute and the Institute for Architecture and Urban Sustainable doctor Falamaki.
Dr. S. Praveen Kumar from Bharat university of India, Dr. Olga Lavernova from INION Institute of Russia, Dr. Alessandra De Cesaris from Sapienza University of Rome are the conference international partners.
The 300 hundred articles uploaded to the website of the conference since then, which after 3 stage structure and scientific judgment by the Scientific Council Conference, 158 of those article with the Conference-related topics were recognized for presenting as oral and posters articles.